How a Mobile App Helps Small Enterprises to Better Manage Their Fleets?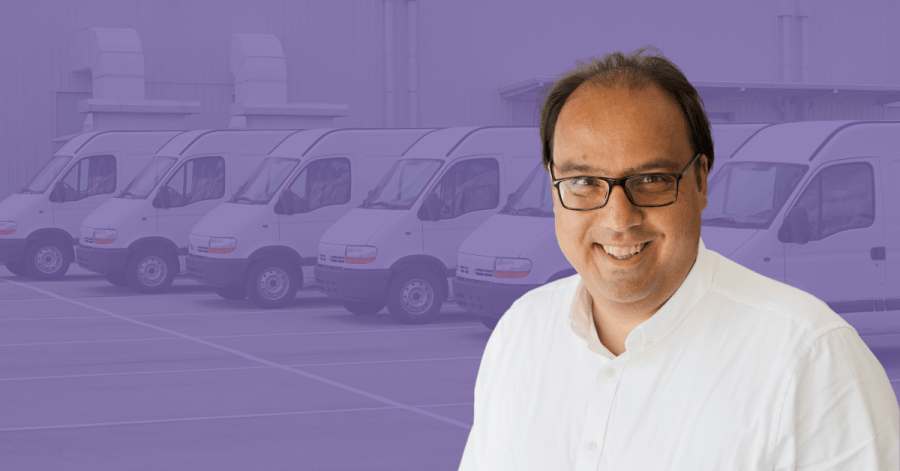 4 mins read | Recursive | 2022.11.29
A recent Verizon Connect report among more than 400 fleet management professionals shows started with the question of what keeps them up at night. Among the most common answers, we found fuel consumption, environmental effects, and cost-effectiveness. This shows how much the process of monitoring and taking care of your company's cars, be they commercial light vehicles or passenger cars. With that in mind, establishing a proper fleet management process improves a company's efficiency and productivity, reduces cost, stays compliant, and provides better customer satisfaction.
Over the years, the fleet management industry has grown, and more companies have understood the importance of managing the fleet actively. Since the late '70s, when the "Vehicle Maintenance Standard" was developed, the world of telematics is being improved, and fleet tracking and management are continually being digitalized.
Since the '90s, telematic companies have started offering web-based systems, with the turn of the century, and the advances in technology they started branching into the many solutions we see today: GPS, telematics, driver behavior monitoring, fleet maintenance systems, software, etc. The primary benefit of using a fleet management system is that you'll see an overall reduction in your operating costs. Using the collected data improvements can be made in key areas of operations, including better planning of the routes and dispatching.
Better fleet management to reduce environmental impact
Properly managing a fleet is also very helpful in reducing the carbon footprint and the environmental impact this has on the planet. For the past few decades, we see the urban population heavily exceed the rural one. Among EU countries, the urban population in the union reached 75% in 2021. With that in mind, the amount of car usage in cities has increased. Especially in Eastern Europe, this can be a significant issue, because most of these cars are some of the oldest in the region. Combined with the lack of infrastructure, motorization can cause a lot of problems among which are congestion, health issues, and stress.
An all-in-one mobile app to control it all
Born from the personal experience of urbaniqe's CEO and founder Levente Tóth, the app provides better fleet management and customer satisfaction for small enterprises. Almost all solutions are aimed at large logistics companies and especially heavy commercial vehicles. They don't address the needs of small businesses and daily commuters, that operate mostly aged fleets, and cannot afford to invest in zero-emission vehicles or expensive OBDs (on-bord-devices). It appeared as a blue ocean for startup companies to talk to them and understand their problems around urban mobility.
Based on our research, we saw some of their main issues are operating mostly aged fleets and cannot afford to invest in zero-emission vehicles, nor do they have resources for expensive tracking devices. That's why urbaniqe was created as a pay-as-you-go fleet management solution that is affordable for small enterprises and comes with a free trial option, as business representatives were reluctant to get something without trying it first. The mobile-first solution doesn't require you to plug in or mount any trackers or onboard devices into your cars any more.
Through the integration of mobile tracking of drivers and separation between business and private usage of cars, enterprises can save up to 15% on fuel. Drivers can also easily record fuel slips with just a few clicks and managers can receive real-time information reports on costs. Using the app's built-in machine learning intelligence, urbaniqe can predict fuel consumption based on data tracking, the driver's driving style, and car specifics.
Single source of truth for fleet managers
Registering all vehicles and drivers allows managers to easily allocate cars to their drivers. The platform offers an option to add all necessary documentation such as fuel slips, car authorization files, and driver's licenses. The app won't allow you to miss an expiry date anymore. Mileage of cars and driving time are also tracked, so managers can get all the information they need. Editing and replaying past trips is also an option, turning the app into a single source of information on operations.
The machine learning-based intelligence will also allow managers to calculate the carbon footprint of a business fleet. And gives users the opportunity to drive in a more eco-conscious way and, if they wish so, they'll have options, in the app, to partially or fully decarbonize the footprint of their vehicle fleet. This provides an opportunity to be eco-conscious even when using an older fleet.
If you want to learn more about the app, and try it out, visit their website. Request a free trial and invite your teammates to try the new era of fleet management for small enterprises.